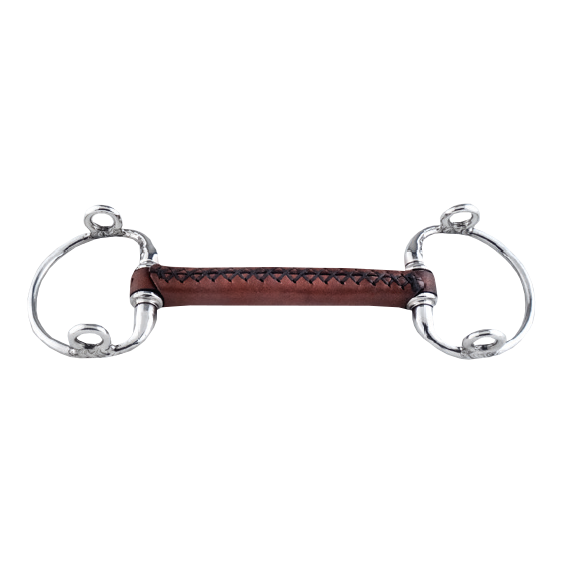 Trust
Olive Head Leather Gag Bit
Price incl. VAT
To add the item to your shopping cart, please select an option from each group (colour, size etc.).
Product description
Trust Olive Head Leather Gag Bit
The olive head bridle by Trust lies perfectly in the horse's mouth without pressure. By slightly increasing the pressure on the reins, the cap changes the mouthpiece in the mouth. Because of the special natural processing of the bit, a greater impact works on the palate and tongue of the horse. The shape of the nozzle and the soft transition to the bit rings allows the compression of the lips thereby the bit gets a particularly stable position in the mouth. Due to the shape of the bit and the different size of the bit rings, the bit is especially suitable when working with young horses. A bit with smaller rings has a slightly harder effect than a bit with larger rings. An olive head bridle can be used for almost any horse due to the different hardness of the nozzle. For sensitive horses, a bit made of leather is particularly suitable. Since it is very soft, it protects the horse from injuries in the mouth. The salivation makes the bit softer and correspondingly more comfortable for the horse. A straight bit often appears sharper than a single or double broken mouthpiece. The shape of the mouthpiece determines the pressure in the mouth. A straight mouthpiece with tongue clearance gives more pressure on the interdental space and keeps the tongue free. The straighter and thicker the mouthpiece, the more pressure is applied to the tongue.
Properties
nylon core
leather sheathing
handmade in the Netherlands
tanned leather
suitable for horses with sensitive mouth
Product features
| | |
| --- | --- |
| Material: | leather |
| Mouthpiece: | Bar |
| Riding Style: | Springen |
| Gebissstärke: | 20 mm |
| Bit width: | 11,5 cm, 12,5 cm, 13,5 cm, 14,5 cm |
| Bit types: | Aufziehtrensen, Olivenkopf Gebisse |
| property: | für empfindliches Maul |
| Artikelnummer: | FR11370 |
| EAN | 7434011513526 |
Reviews