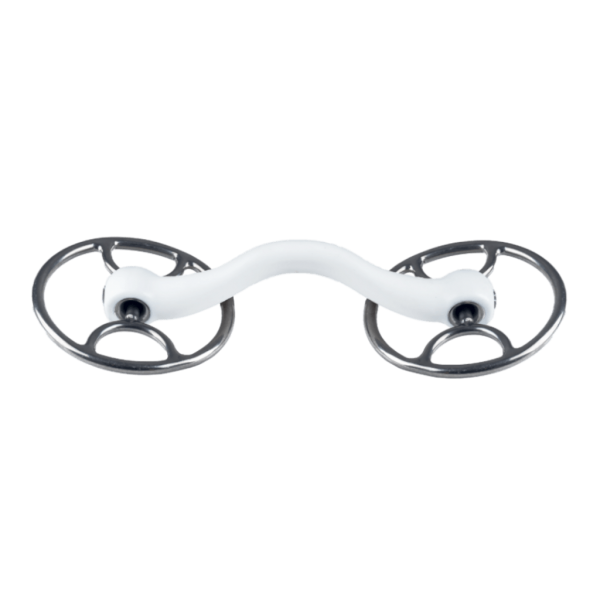 Trust
Swivel Inno Sense Port, 20 mm
Price incl. VAT
To add the item to your shopping cart, please select an option from each group (colour, size etc.).
Product description
Trust Swivel Inno Sense Port
The Inno Sense Swivel is a bit with two integrated half rings and a mouthpiece with plastic coating. The half rings are connected to each other and thus the bit is clearly restricted in movement and lies very quietly in the horse's mouth. The reins can be attached to the large ring or the lower half ring as desired. Attached to the lower half ring there is a slight leverage effect, attached to the large ring there is pressure which helps the horse to lower its head. The horse is additionally limited laterally, so that turns can be ridden in a more targeted manner. The mouthpiece has a curvature so that the tongue has sufficient freedom of movement. In addition, the pressure is taken from the middle of the tongue and evenly distributed. In medium the mouthpiece is hardly flexible and in hard it is not flexible at all.
Properties
with tongue freedom
different degrees of hardness
many application possibilities
thickness: 20 mm

rings diameter: 8,5 cm
Product features
| | |
| --- | --- |
| Mouthpiece: | Bar, Mit Zungenfreiheit, Zungenbogenstange |
| Hardness grade: | hard, medium |
| Shape: | curved |
| Material: | Kunststoff |
| Riding Style: | Dressur, Springen |
| Bit types: | Stangengebisse |
| Gebissstärke: | 20 mm |
| Bit width: | 12,5 cm, 13,5 cm, 14,5 cm |
| Artikelnummer: | FR16882 |
| EAN | 7434011589521 |
Reviews