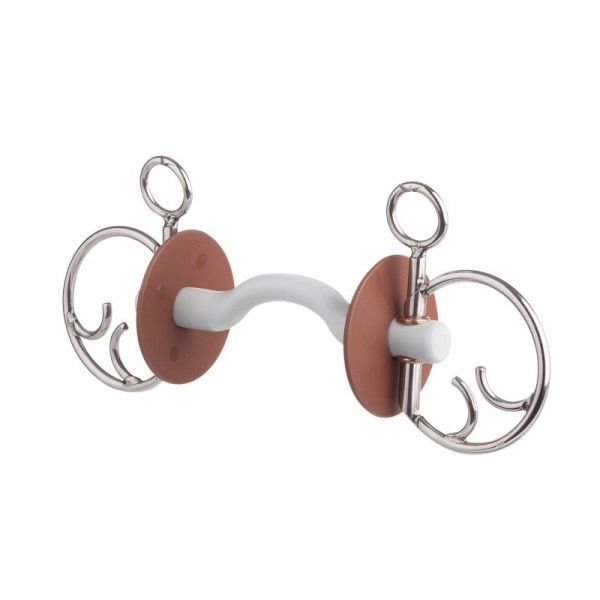 Beris Bits
Beris Kimblewick Bit with Tongue Port Snaffle
€134.96 *
€149.95 *
(10% Saved)
Price incl. VAT
To add the item to your shopping cart, please select an option from each group (colour, size etc.).
Product description
Beris Kimblewick Bit with Tongue Port Snaffle
As the name suggests, the jumping combi-bridle combines several features. One is the leverage effect on the lower jaw branches, the pressure development on the neck, as well as the variable position in the mouth. The three different buckling possibilities allow a well-dosed use of the dentition, so that the dentition can be adjusted to different demands and wishes at any time and everywhere. Due to the slightly heavier side parts, the denture lies particularly still in the mouth and thus contributes to increased chewing activity. The special feature of this bit is the 30mm high tongue arch, which is flattened in its shape, which not only distributes the pressure optimally on the chests as well as on the tongue, but also allows the latter sufficient freedom of movement. An additional advantage of the high arch of the tongue is for so-called "tongue players", this type of horse tends to push its tongue over the bit, which is effectively prevented by the arch of the tongue. What is also optimally prevented is the pinching of the lips by attaching additional bit discs to the bit, which protect the horse's sensitive mouth. The special Beris synthetic material is highly accepted, which is why many horses show improved looseness, increased chewing activity and the associated increased saliva production.
Material
food-safe plastic
stainless steel
Properties
thickness: 20mm
height arch: 30mm
finish: hard / soft
width: 12cm / 13cm / 14 cm
Reviews