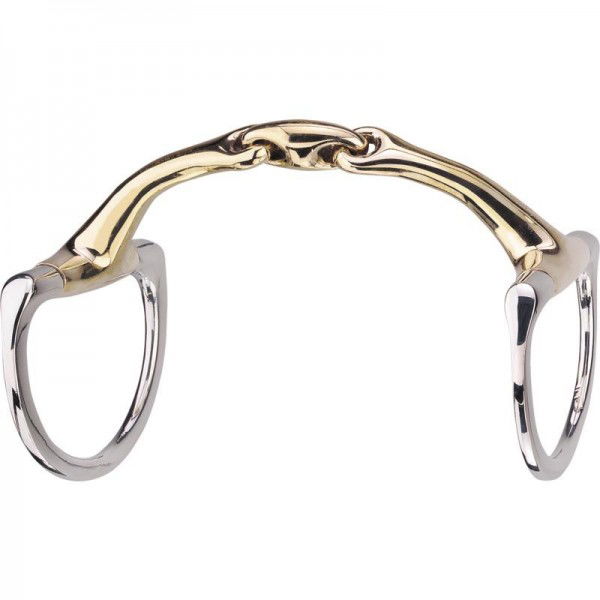 HS Sprenger
Sprenger Dynamics RS Olive Head Bit with D-shaped Ring
€140.16 *
€164.90 *
(15% Saved)
Price incl. VAT
To add the item to your shopping cart, please select an option from each group (colour, size etc.).
XMAS Deals 2022 - Brands 1
XMAS Special | Until December 07, 2022
 This sign marks our promotional item.
The discount is already deducted.
We have extended the right of return for you until January 31, 2023.
Product description
Sprenger Dynamics RS olive head bit with D-shaped ring
Dynamic RS bits are a further development of the KK Ultra bits, because their middle parts, or the joint, are inclined forwards by 45°, which means that the bit addresses the sensitive sense of touch of the tongue and allows rein aids to reach the horse's mouth more effectively. The patented, ergonomic shape distributes the pressure optimally over the entire tongue, whereby the bit adapts itself effectively and precisely to the tongue and mouth contour. The side-mounted "olives", which are typical for an olive head bit, additionally protect the sensitive horse's mouth and prevent the lips from being pinched. For this reason, Dynamic RS bits, when used correctly, are ideal for sensitive horses that prefer a calmer bit in the mouth. The D-rings also provide an improved lateral restriction, which can help horses that tend to break out over the shoulder. Please fasten all bitches marked with an arrow so that the arrow on the left hand points forward.
Material
Sensogan (alloy of copper, manganese and zinc)
stainless steel
Properties
thickness: 14mm
ring size: 65mm
width: 11cm / 11,5cm / 12,5cm / 13,5cm / 14,5cm
double broken
Reviews