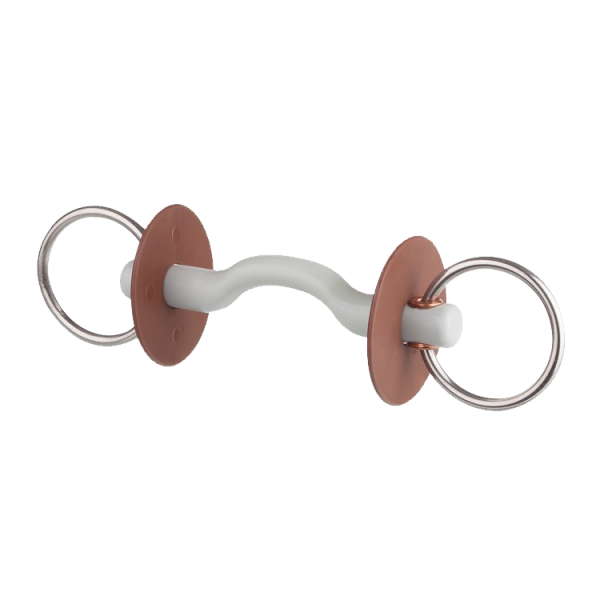 Net of applicable taxes
To add the item to your shopping cart, please select an option from each group (colour, size etc.).
Product description
Beris water bridle with tongue bow bar
The Beris water snaffle convinces with its loose-running rings, which are variable in size and ensure greater mobility of the bit, making it ideal for horses who prefer a more mobile bit. The special feature of this bit is the 30mm high tongue arch, which is flattened in its shape, which not only distributes the pressure optimally over the bit and tongue, but also allows the tongue sufficient freedom of movement. An additional advantage of the high arch of the tongue is for so-called "tongue players", this type of horse tends to push its tongue over the bit, which is effectively prevented by the arch of the tongue. The special Beris synthetic material is highly accepted, which many horses react to with improved looseness, increased chewing activity and the associated increased saliva production. The additionally attached bit discs make it impossible to pinch the lips and thus protect the sensitive horse's mouth, while the copper bushes incorporated into the bar ensure improved durability and considerably increase the life span of the bit.
Material
food safe plastic
stainless steel
copper bushes
Properties
thickness: 20mm
height arch: 30mm
ring size: 6cm / 7,5cm
width: 12cm / 13cm / 14cm
finish: hard / soft
Product features
| | |
| --- | --- |
| Bit types: | Loose Ring Bits, Stangengebisse |
| Mouthpiece: | Bar, Mit Zungenfreiheit, Zungenbogenstange |
| Hardness grade: | hard, weich |
| Material: | Kunststoff |
| Riding Style: | Dressur, Springen |
| Gebissstärke: | 20 mm |
| Bit width: | 12 cm, 13 cm, 14 cm |
| property: | für empfindliches Maul, kauanregend |
| Artikelnummer: | FR14760 |
| EAN | 4046228013992 |
Reviews