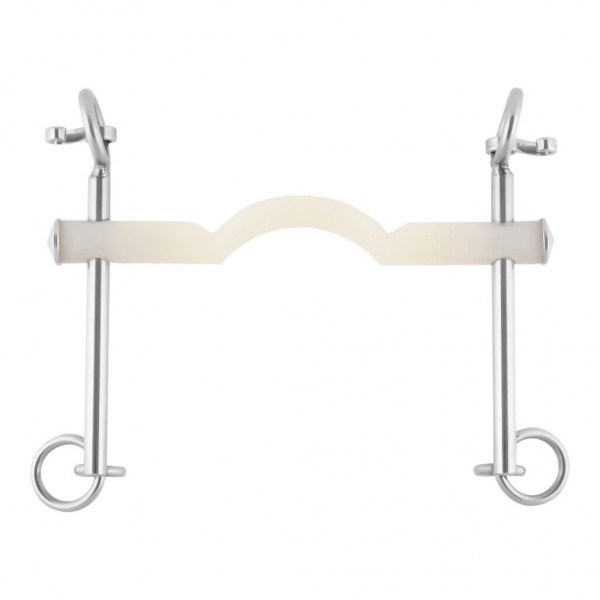 Net of applicable taxes
To add the item to your shopping cart, please select an option from each group (colour, size etc.).
Product description
HS Sprenger Nathe curb bit with tongue clearance
Since January 2020, Sprenger has taken over the worldwide distribution of Nathe dentures and thus combines two quality brands "Made in Germany" under one roof. Both Sprenger and Nathe are interested in constantly improving the quality, functionality and design of their products. Nathe's plastic dentures complete the Sprenger range and make it possible to offer dentures for all kinds of demands and wishes. The Nathe curb bit comes with a 15mm thick mouthpiece made of hypoallergenic plastic, stainless steel side parts and a steel core, which should make the bit safer and more durable. The shape of the bar convinces with its slight tongue freedom, because this guarantees an even pressure distribution, while the tongue has enough space under the bit. You can choose between a 5.5cm long or 7cm long beam, which either increases (7cm) or decreases (5cm) the pressure on the neck. Please note, however, that the lever of 5cm long suits is significantly shorter than that of 7cm long suits and therefore the aids work faster. In both cases the use of the aids requires an experienced and sensitive rider's hand. Please note that the curb is lower than the bridle, because the mouth becomes narrower towards the front, you should order the curb 0.5 - 1cm shorter than the bridle.
Material
thermoplastic
stainless steel
Features
thickness: 15mm
width: 12,5cm / 13,5cm / 14,5cm
beams: 5,5cm / 7cm
Made in Germany
42129 / 42229
no guarantee on bite
Reviews