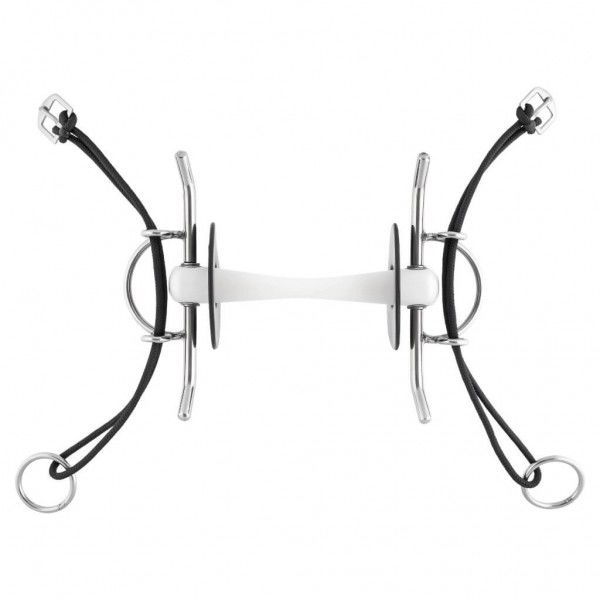 HS Sprenger
Nathe Full-Cheek Lifting Snaffle with Flexible Rod
Net of applicable taxes
To add the item to your shopping cart, please select an option from each group (colour, size etc.).
Product description
HS Sprenger Nathe Thigh Lifting Snaffle with flexible rod
Since January 2020, Sprenger has taken over the worldwide distribution of Nathe dentures and thus combines two quality brands "Made in Germany" under one roof. Both Sprenger and Nathe are interested in constantly improving the quality, functionality and design of their products. Nathe's plastic dentures complete the Sprenger product range and make it possible to offer dentures for all kinds of demands and wishes.
Nathe's Thigh Mounting Snaffle comes with a flexible bar made of anti-allergenic plastic, stainless steel side parts and a steel core, which makes the bit safer and more durable. Due to the special shape of the bar, the pressure is evenly distributed over the entire tongue, which contributes to the comfort of the bit. The special feature of a wind-up snaffle are the Perlon cords, which are threaded laterally through the bit and to whose lower ring the rein is attached, whereas the other end is buckled into the noseband as a cheek piece replacement. This system aims to tilt and lift the bit when the reins are accepted and should therefore only be used with fine aids. The bit is particularly suitable for horses with a very top-heavy head, which need better support in technically demanding courses. In order to prevent the lips from getting caught completely, additional bit discs have been added to round off the appearance of the pull-on bridle.
Material
Thermoplastic
stainless steel
Features
thickness: 20mm
width: 12cm / 13cm / 14cm
ring size: 50mm
Made in Germany
41292
no guarantee on bite
Product features
| | |
| --- | --- |
| Bit types: | Aufziehschenkeltrensen, Aufziehtrensen, Nathe Bits, Schenkeltrensen, Stangengebisse |
| Mouthpiece: | Bar |
| Riding Style: | Springen |
| Gebissstärke: | 20 mm |
| Bit width: | 12 cm, 13 cm, 14 cm |
| Material: | Thermoplast |
| property: | antiallergen |
| Artikelnummer: | FR20071 |
| EAN | 4022853240125 |
Reviews