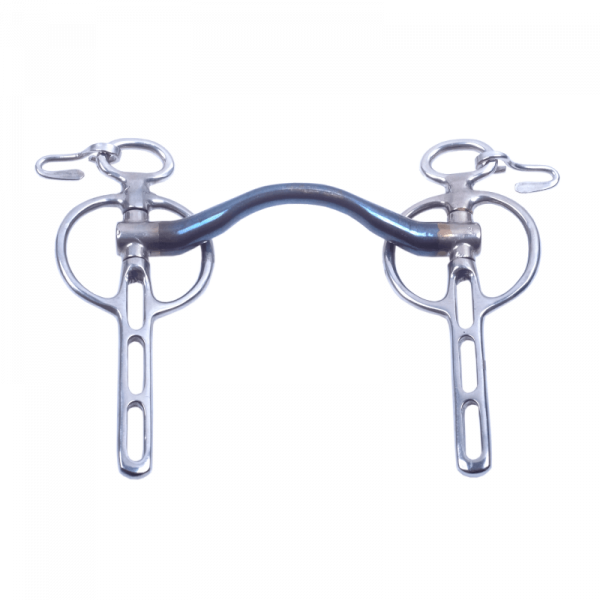 Trust
Driving Curb Bit Liverpool Sweet Iron, Medium Port, 3 Slots, Non-Fixed, 16 mm Thickness.
Price incl. VAT
To add the item to your shopping cart, please select an option from each group (colour, size etc.).
Product description
Trust Driving Curb Bit Liverpool Sweet Iron Medium Port
The Trust driving curb bit Liverpool Sweet Iron is a bit that is specially designed for driving. It has three slots, so you can decide individually whether you want a strong or low leverage. Here, the further down the driving lines run, the stronger the leverage and the sharper the bit then acts. The mouthpiece of this driving curb bit is a straight bar with a medium tongue clearance. The tongue clearance allows sufficient room for the tongue and significantly reduces the pressure on the tongue. The mouthpiece also has a so-called Sweet Iron coating, which forms surface rust in contact with moisture. This rust tastes sweet to horses, thus the acceptance of this bit is significantly increased and the flow of saliva is stimulated. The Liverpool Medium Tongue Bit has movable sides and should only be used by experienced, fine hands as it has a sharp action on the horse's mouth.
Note: When not in use, a thin layer of orange-brown rust will develop on the mouthpiece, this can be removed with a damp cloth and is not a quality defect!
Properties
Sweet Iron
medium tongue clearance
thickness: 16 mm
3 slots
high acceptance
shank length: 10,0 cm
Reviews