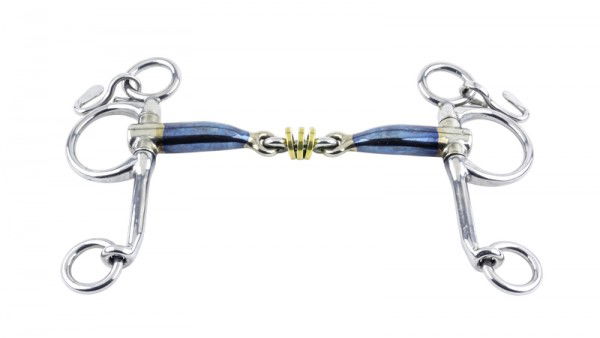 Trust Pelham Sweet Iron With Brass Rings, 16 mm Thickness.
Price incl. VAT
To add the item to your shopping cart, please select an option from each group (colour, size etc.).
Product description
Trust Pelham Sweet Iron With Brass Rings
The Pelham Sweet Iron with brass rings is a special variation of the double broken bit. The brass rings are designed to encourage the horse to play with its tongue. Due to the increased tongue activity, the horse also produces more saliva and the jaws can relax more. The Pelham Side Piece combines the action of a curb and snaffle and can be ridden with one or two reins. For correct use with one rein, a pellham strap must be used to connect the bit rings to the thigh rings. A pelahm is suitable for particularly strong horses and is used to accustom the horse to the double bridle. The blue surface, the so-called sweet iron reacts with moisture and then forms surface rust, which tastes sweet to horses and thus additionally animates the horse to foam. The use of a Pelham requires an experienced and sensitive rider's hand, as it is a very sharp bit.
Note: When not in use, a thin orange-brown layer of rust will develop on the mouthpiece, this can be removed with a damp cloth and does not represent a quality defect.
Properties
Sweet Iron
brass rings
thickness: 16 mm
joists: 60 mm
sharp bit
Reviews