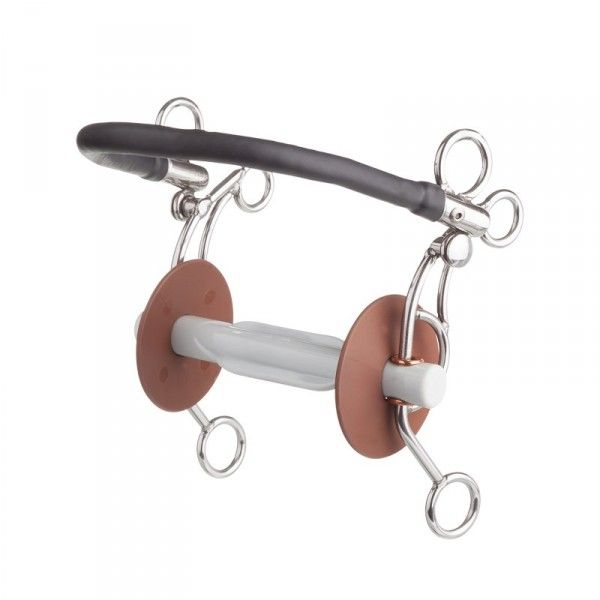 €149.21 *
€198.95 *
(25% Saved)
Price incl. VAT
To add the item to your shopping cart, please select an option from each group (colour, size etc.).
Summer Sale 2022
Summer Sale | The heat is on!
- Only through August 31, 2022 -
This tag marks our promotional products.
Discounted on site.
Promotional period: July 14 – August 31, 2022 at 11:59 pm CET
Product description
Beris Tandem US with Butterfly Snaffle
The Tandem US is similar to the normal tandem in all points, but is characterised by its simpler black strap, which rests on the most sensitive nasal bone. By accepting the rein, pressure is exerted on the nasal bone, the lower jaw, as well as on the neck. A slight pulling effect, i.e. the tilting and lifting of the bit, results when the rein pressure is increased, which is why this bit only belongs in an experienced and sensitive rider's hand. The butterfly bar represents a real innovation in the field of bitting, its "wings" attached to the side of the bar increase the contact surface of the bit, making it more comfortable and distributing the pressure more evenly. The recess in the central part of the bit gives the tongue extra space and comfort, thus increasing the horse's well-being many times over. However, if traction is applied to the bit, the bar rotates in the mouth and the two "wings" exert selective pressure on the tongue. The "Tandem" is suitable for horses that are too sensitive for a pure bit effect, but which cannot be ridden with just a Hackamore either.
Material
food-safe plastic
stainless steel
Properties
thickness: 20mm
finish: hard / soft
width: 12cm / 13cm / 14cm
Reviews